The Québec Ombudsman
Contact us by phone
1-800-463-5070
Monday to Friday
8:30 a.m. to noon
and 1 p.m. to 4:30 p.m.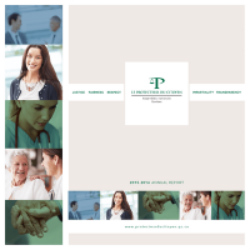 2015-2016 Annual Report
The Québec Ombudsman presented its findings and recommendations on the occasion of the tabling of its Annual Report in the National Assembly on September 29, 2016.
Common complaints
"The personal care that my mother is getting at a CHSLD seems inadequate to me."
 
"Retraite Québec gave me insufficient information about my pension assessment."
 
" The hospital has refused to grant me physiotherapy and has referred me to a private clinic instead."
 
"I got a notice of assessment from Revenu Québec that seems unfair."
 
"I can't seem to be able to have my health insurance card renewed. "
 
Is your situation different?
Frequently Asked Questions
All frequently asked questions
No. The Québec Ombudsman is not empowered to contest decisions by the Premier, ministers or any other elected officials.
As soon as the Québec Ombudsman receives your complaint, it acknowledges receipt by contacting you by phone or in writing (email, letter or fax) within the next two working days.
Yes. This is called making a report to the Québec Ombudsman.
The Québec Ombudsman cannot intervene in cases involving Hydro-Québec.
News
A student filed a complaint with the Québec Ombudsman because the Ministère de l'Éducation et de l'Enseignement supérieur required that she pay off a debt with another Department before granting financial assistance.
Reaction to bills and draft regulations
In a letter to the Committee on Institutions, the Québec Ombudsman said that it welcomed the amendments proposed in Bill 113 regarding adoption and the disclosure of information.