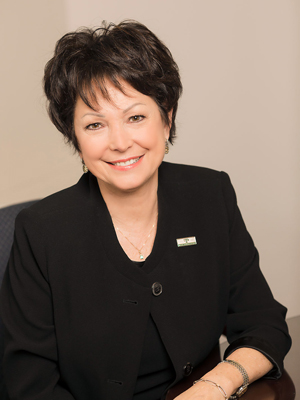 Madam Marie Rinfret took office as the Ombudsperson on March 27, 2017.
Marie Rinfret's appointment was ratified by two thirds of the National Assembly, as provided by law. She is the seventh person who has occupied this position since the creation of the institution in 1968. 
The Ombudsperson had been a member of the Québec Bar since 1980. She studied law with a special interest in social justice, a trajectory that led her to issues related to the defence of rights, integrity and fairness. In the past 30 years, Madam Rinfret has acted as legal counsel and director of legal affairs within Québec's public service, including 12 years with the Ministère de la Justice. 
Marie Rinfret was the president of the pay equity commission as of 2011, where she put particular effort into promoting fair wage conditions for women. In 2016, she became vice president of the newly created Commission des normes, de l'équité, de la santé et de la sécurité du travail (CNESST), pay equity section. Furthermore, the Ombudsperson has been a member of the Ordre des administrateurs agréés since 2015. 
She was also honoured by the Québec Bar Association, which awarded her the Mérite Christine-Tourigny prize on May 30, 2017. This distinction highlights the commitment of members or former members of the Québec Bar Association towards the legal profession, their social involvement and their special contribution to the advancement of women in the profession.
"I am particularly honoured to be at the helm of this institution impressive for its humanity, competence, rigour, credibility and necessary boldness, paired with great determination, so that government best serves the interests of citizens." Marie Rinfret