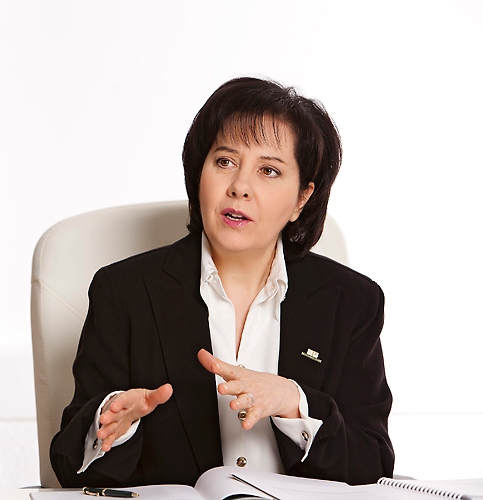 In June 2011, Raymonde Saint-Germain was unanimously re-appointed Ombudsperson for a second consecutive five-year term of office by the Members of the National Assembly.
Raymonde Saint-Germain has been the Québec Ombudsperson since April 2006. Her investiture coincided with the expansion of the institution's responsibilities to include second-recourse reception and processing of citizen complaints in the health and social services network. 
"Remedy for a citizen – remedy for all citizens whenever a resolution has a collective impact"—this is what Raymonde Saint-Germain's team does every day. 
This is why, above and beyond individual processing of complaints, the Ombudsperson proposes preventive action, especially on the legislative front, and conducts system-wide investigations that sometimes call for special reports. Since 2006, the Ombudsperson has recommended amendments to more than 100 bills and draft regulations.
Her recommendations, whether they concern the public service or the health and social services network, always seek to strike a balance between delivery of quality services and responsible use of public monies. Keenly concerned about the plight of the most vulnerable members of our society, the Ombudsperson pays special attention to the impact of public services on these citizens and the efforts made by public services to understand them and to adapt accordingly.
Raymonde Saint-Germain was President of the Association des ombudsmans et médiateurs de la Francophonie (AOMF) from 2013 to 2015. In June 2009, she received the Prix Orange award from the Association des groupes d'intervention en défense des droits en santé mentale du Québec for her initiative in leading a system-wide investigation into the infringement of the rights of hospitalized psychiatric patients.
Prior to becoming the Ombudsperson, Ms. Saint-Germain worked in Québec's public service for 32 years. Her positions included Assistant Deputy Minister at the Ministère des Relations internationales, Deputy Minister at the Ministère des Relations avec les citoyens et de l'Immigration, Éditrice officielle du Québec, and Deputy Minister at the Ministère de l'Immigration et des Communautés culturelles and at the Ministère des Services gouvernementaux.
Ms. Saint-Germain has a Bachelor's degree in journalism and broadcast journalism from Université Laval and a certificate for ombudsmans from the Osgoode Hall Law School of York University. She also completed advanced studies at École nationale d'administration publique.