2018-2019 Annual Report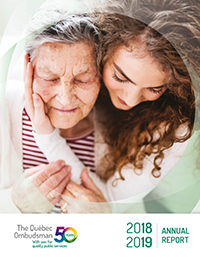 The Ombudsperson Marie Rinfret tabled her 2018-2019 Annual Report at the National Assembly. In it, she presents her findings concerning the quality and integrity of Québec public services.
"I'm particularly concerned about public service access for people who are the most vulnerable because of their health, age, social and economic condition or their isolation. When access rules are too complicated, they deprive people of the services they need and have the right to," said Ombudsperson Marie Rinfret.
To see :
---
To read a specific chapter of the 2018-2019 Annual Report:
* This PDF version is available for people with a permanent or temporary impairment.
---
2018-2019 Annual Management Report: