June 19, 2019
Driving a motorized scooter at age 14: what are the rules?
Corps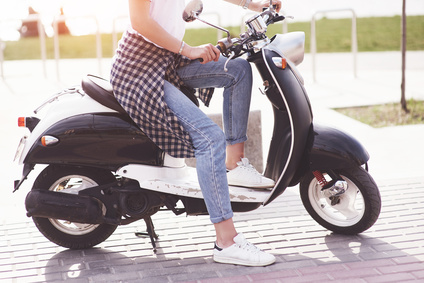 As of age 14, you can obtain a class 6D licence for driving a motorized scooter. But first you must pass the Road Safety Education Program – Operating a Moped or Motorized Scooter driving course. To register, minors must provide the completed Consent of a Person Having Parental Authority form. They also have to fill in a questionnaire showing that they are competent to drive. The six-hour course must be taken at a school recognized by the Association québécoise des transports.
Class 5, 6A, 6B and 6C licence holders are also authorized to drive scooters. The licences can be obtained as of age 16.
Once you have your licence, you must register the vehicle. Insurance is recommended.
The rules of the road
If you are under age 16, you must not carry a passenger. If you do, you face a $100 fine.
If you are under age 18, you are subject to the zero-alcohol rule. You must also have fewer than 4 demerit points on your record.
Note that driving a modified scooter is prohibited. Offending drivers are subject to fines ranging from $300 to $600. What's more, the vehicle may be impounded for 30 days. Offenders must cover the cost of towing and impoundment.
Safety first
Helmets are mandatory for all scooter drivers and passengers. Wearing protective clothing is also advised. For further details, visit the Société de l'assurance automobile du Québec website.
Do you want to file a complaint?
Are you having a problem with the SAAQ and want to file a complaint? Contact the Québec Ombudsman now. Services are free and confidential.