May 1, 2019
The Québec Ombudsman : 50 years of action to oversee public service quality and integrity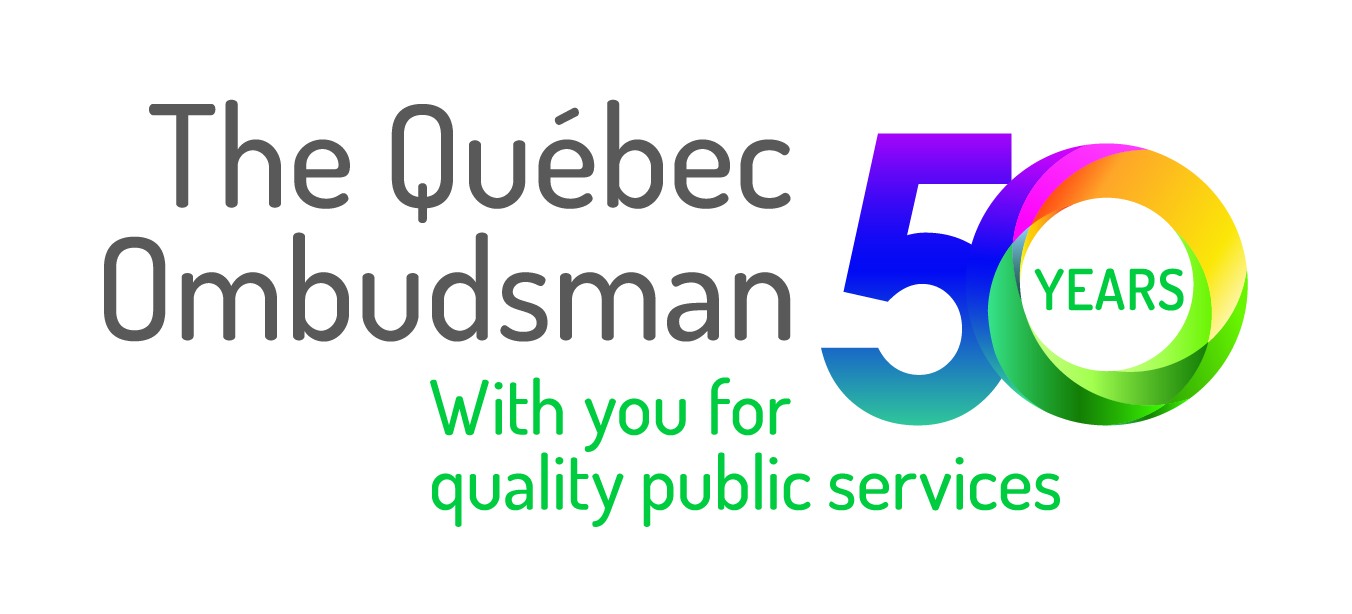 Québec City, May 1, 2019 – Fifty years ago today, the Québec Ombudsman appeared on the scene to ensure that people's rights were upheld in interacting with Québec public services. Ever since, it has handled more than 850,000 requests. The citizens who came to it found independent, user-friendly, free and effective recourse for asserting their rights with Government of Québec departments and agencies.
Today, 98% of its recommendations are approved by the services entrusted with implementing them. Ombudsperson Marie Rinfret sees the institution's anniversary as an opportunity to look back at the road travelled:
''I'm truly proud to be part of the adventure of this great and noble institution. For five decades, the Québec Ombudsman has never stopped being a powerful voice for the women and men who use public services. We see all kinds of distress in people who have trouble obtaining the services they are entitled to. For some, it's an obstacle course. Every day, we help to ensure that justice is served for many of them. Our work has also shown us the goodwill of most government employees in charge of meeting citizens' needs. We work in tandem with them to improve the quality and integrity of public services.''
Independence and impartiality
Established on May 1, 1969, the Québec Ombudsman was aimed at responding to the increasing presence of public services in people's everyday lives. The Public Protector Act, passed in 1968, created an organization mandated to investigate cases of errors or abusive actions by Government of Québec departments or agencies.
Me Louis Marceau was the first Ombudsman (May 1, 1969 to 1976), followed by Me Lucie Patenaude (1976-1982), Mr. Yves Labonté (1982-1987), Me Daniel Jacoby (1987-2001), Madam Pauline Champoux-Lesage (2001-2006), Madam Raymonde Saint-Germain (2006-2016) and Me Marie Rinfret (since 2017). The appointment of the Ombudsman/Ombudsperson must be approved by two-thirds of the Members of the National Assembly from all political parties, giving the appointee the independence and impartiality crucial to fulfilling his or her duties.
Our four core mandates today
At first, the Québec Ombudsman's mission was to handle complaints concerning government departments and agencies only, including the correctional facilities reporting to the Ministère de la Sécurité publique du Québec. In 2006, it was given the mandate to see to the respect of the rights of health and social services network users. In this area, it acts as a second level of redress, after the service quality and complaints commissioner of the institution concerned has intervened. 
Since 2017, the Québec Ombudsman has also handled disclosures of wrongdoing relating to public bodies. Anyone may make such disclosures and enjoy the necessary confidentiality and protection against possible reprisal.
You can follow the Québec Ombudsman on Facebook [@leprotecteurducitoyen] and Twitter [@PCitoyen].
– 30 –
Press relations:
Carole-Anne Huot
Phone: (418) 646-7143/Cell: (418) 925-7994
Email: carole-anne.huot@protecteurducitoyen.qc.ca