August 26, 2019
Hospital: adapt meals to people's conditions
Corps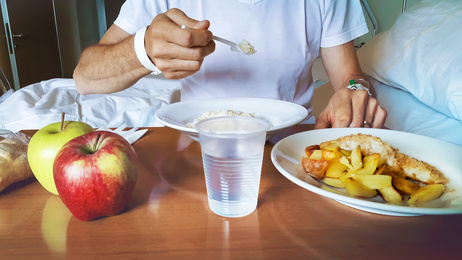 The complaint
A man at the emergency ward was served a meal that was completely unsuited to his condition. Since the staff were unable to give him a more appropriate meal, the citizen complained to the Québec Ombudsman.
The investigation
A man with gastroenteritis went to a hospital emergency ward, where he spent the night.
The next day, the staff served him a meal containing meat.
Given his condition, the man was sure he would be unable to properly digest that kind of food.
The staff explained that there were two kinds of diets available on the ward: liquid or solid.
The investigation by the Québec Ombudsman showed that at this hospital, several diets could be provided, including regular, liquid, semi-liquid and diabetic diets. The plate that the man was served contained a regular meal.
The staff said that they did not have access to the services of nutrition professionals. As a result, they could not provide meals adapted to the condition of everyone admitted to the unit. 
During the investigation, the Québec Ombudsman discovered that the staff were wrong. The meals of people admitted to the hospital emergency ward could be tailored to their condition. To order a special meal for them, the staff had to put in a request to the people in charge of the food section.
Evidently, the emergency ward staff were not very familiar with this procedure.
The result
Further to the Québec Ombudsman's recommendation, the institution informed the staff concerned about this way of proceeding.
---
The Québec Ombudsman ensures that your rights are upheld in your dealings with Québec public services. Are you dissatisfied with the services of a Government of Québec department or agency? Or with those of a health and social services network institution (2nd level of recourse)? File a complaint with the Québec Ombudsman by calling 1-800-463-5070 or use our online complaint form.