November 29, 2018
Corps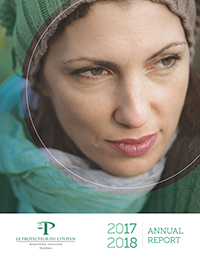 The Ombudsperson Marie Rinfret tabled the 48th edition of the organization's Annual Report in the National Assembly. In it, she weighs in on the quality of public services in Québec.
"Despite their efforts, government departments and agencies, correctional facilities and health and social services network institutions are hard-pressed to meet their commitments," Ms. Rinfret said. 
To see :
---
To read a specific chapter of the 2017-2018 Annual Report:
---
2017-2018 Annual Management Report:
* This PDF version is available for people with a permanent or temporary impairment.