September 18, 2014
Corps
The 2013-2014 Annual Report of the Québec Ombudsman was tabled in the National Assembly on September 18, 2014.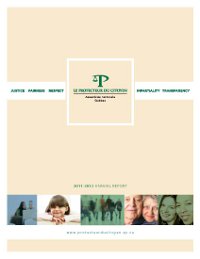 The Ombudsperson, who subscribes to the need for public financial recovery, insisted on the importance of decisions that respect citizens' rights in this context. "In applying recovery measures, care must always be taken not to create injustice or unfairness", cautioned Raymonde Saint-Germain.
She also reported that the time it takes to get services is getting longer, including the wait for being heard by administrative tribunals. Year after year, wait times for services and difficulties accessing them top the list of grounds for substantiated complaints across the spectrum.
In 2013-2014, the Québec Ombudsman intervened with respect to 55 out of 79 government departments and agencies and concerning 173 out of 286 health and social services institutions and bodies.
---
To read a chapter of the 2013-2014 Annual Report in particular: