September 25, 2013
Corps
The Québec Ombudsman's 2012-2013 annual report was tabled in the National Assembly on Wednesday, September 25.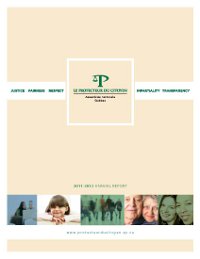 While recognizing the close cooperation offered by public services to correct the shortcomings and mistakes that the institution found during the course of the year, the Québec Ombudsman notes that the gap between stated services and those actually available is still widening because of budget constraints, which are being felt more keenly.
"Each time a budget constraint is announced, one hears the hallowed phrase saying that direct services will not be affected. But that is not true anymore." says Raymonde Saint-Germain.
2012-2013 Annual Report
---
2012-2013 Annual Management Report