November 1, 2012
Corps
On or before September 30 of every year, the Québec Ombudsman submits a report of its activities over the preceding calendar year. In particular, the report mentions cases in which the Québec Ombudsman has made a recommendation or given an opinion and, as the case may be, corrective measures that have been taken by the authority in question.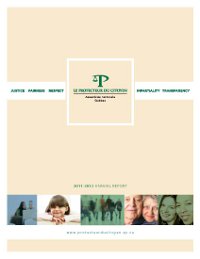 Notice
To facilitate onscreen consultation, the blank pages of the printed document have been removed from the PDF version and will not appear if the document is printed. The pagination of the PDF file remains identical to the original.
Table of contents
Note that all the hyperlinks on this web page open in another window.